October Storms
By Amanda Collins Beams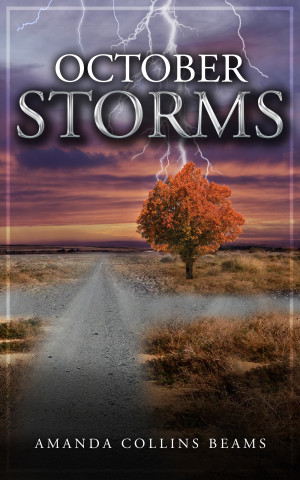 In October 1897, Louise Hawkes - unconscious, severely beaten, and near death - and her two young children, are found on the muddy bank of Friends Creek. Transported to Dunham's Crossing, they are placed in the care of a childless widow, Agnes Dunham Hoskins. Fearful of discovery by her tormentor, mistrustful of strangers, Louise stubbornly refuses to discuss her past.
Weeks later, the fates of both women are forever changed when a minor stumble forces them to trust in each other. As the lives of the young mother and the middle-age widow become increasingly intertwined, an unbreakable bond is formed that will endure beyond their natural lives.
Nearly a century later, best friends Belinda Page and Julie Stephens embark on a day trip to Allerton Park. An accident forces them on to an alternate route over unfamiliar roads where they find themselves caught up in the clutches of a violent thunderstorm. The deluge that ensues compels the travelers to pull to the side of a narrow country road near an intersection dominated by a giant oak. In the storm's aftermath, the discovery of a long-buried curio leads to an encounter neither could have ever imagined.